Duration: 1 workshop (4 hours)
Price: 4,000 rubles
Art therapy is versatile in business. Many managers reflect on how to rally people together under a single cause, inspire, build a team, identify weaknesses and strengths in team communication and interaction. Numerous team buildings merge into the background, because all innovations sooner or later become repetitive and uninspiring, and we, as time is racing, want new, creative, non-standard thinking, to our benefit and understanding of others.
Business art therapy is a new approach based on psychodiagnosis. It is designed to identify unique psychological behavior strategies in team and personal communication. Many people today take interest in personal development. Just as we behave in different situations, we reproduce the same patterns at work. It all starts with personality.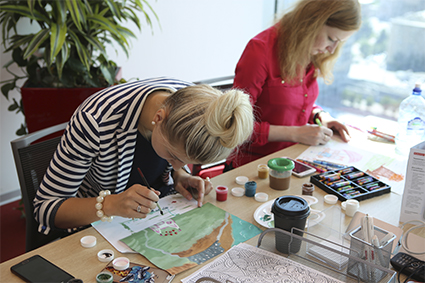 This unparalleled art therapy helps participants to look at themselves from an unusual angle, and develop awareness about interactions with coworkers. The uniqueness of our business art therapy is that the analysis is based on traditional psychodiagnostics and unconventional studies such as astrology and Chinese metaphysics. We draw a miscellaneous personality description based on information from three sources and interviews with participants. The description discloses potential, tendencies, inclinations to a particular activity, and what skills one needs to improve and what activities he should focus on. Art therapy classes encourage to understand and accept some patterns in life, provides resources and solutions for difficult situations, both at work and in everyday life
By introducing business art therapy at work setting, the company eventually gets
well-built team
involvement in the company's performance
positive mindset
appreciative employees
Do you want to change your life?
Take the first step now!